Another bright sunny day and we head 150km east from Mardin to the Mor (Saint) Gabriel Monastery, which is located in somewhat the middle of nowhere.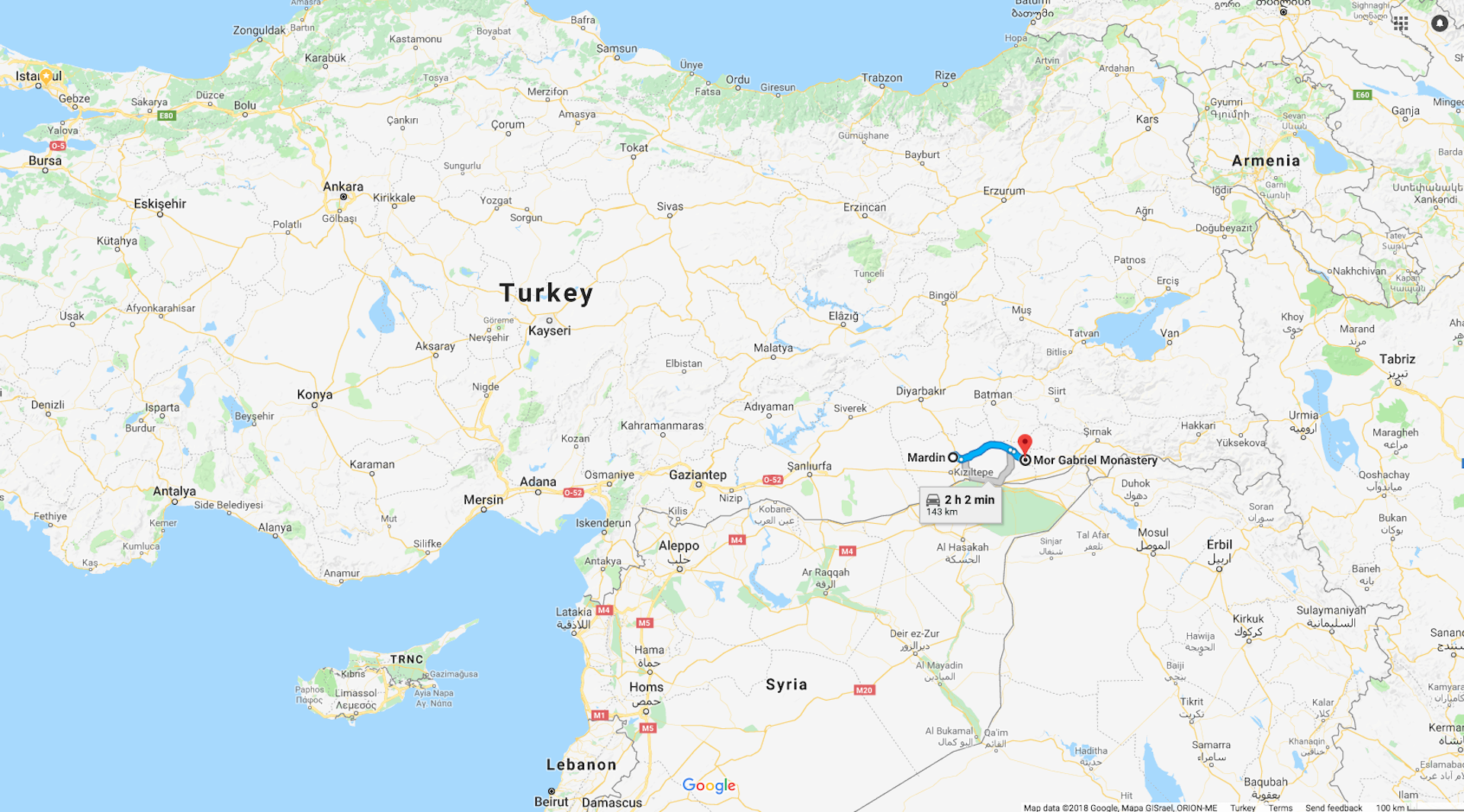 One and a half hours driving though a high plateau of limestone, a part of which is called the Tur Abdin or "Mountain of the Servant of God", brings us to the Monastery.
This area has been inhabited big Syrian Orthodox Christians since the 5th Century AD. They were encouraged to settle in these borderlands by Byzantine emperors in the hope that their presence would prevent further advances west by the Persians. At one time thousands of monks lived here in more than 80 monasteries in the Tur Abdin. Although the Tur Abdin suffered during the time of the crusades and later during the Mongol invasions, there had remained a large Christian community here until the period immediately following World War 1. Currently there are only six monasteries and a Christian population of around 20,000.
At length we come to the Monastery where there are many ornate bell tower visible from a distance across the scrubby plateau.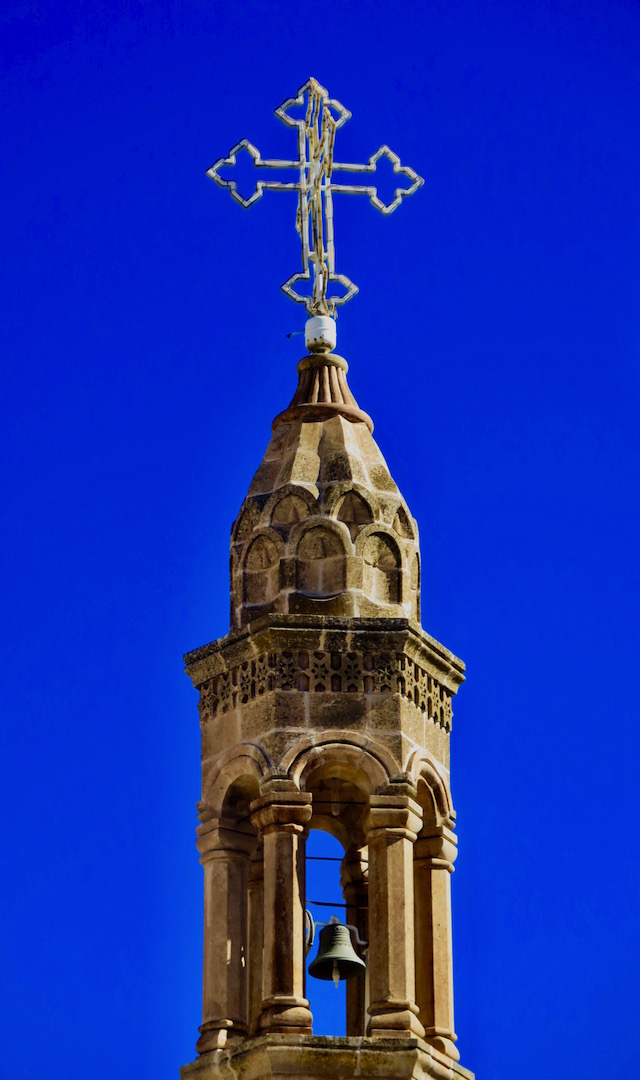 After leaving the monastery we head west and north about 50km to the town of Hasankeyf. This is an ancient town that has straddled a bend in the Tigris river for over 3000 years and has been a strategic location for much of that time. However there is yet another dam being built across the Tigris and the town will likely flood in a few years. Many of the pre-historic caves in the sides of the river will also be flooded.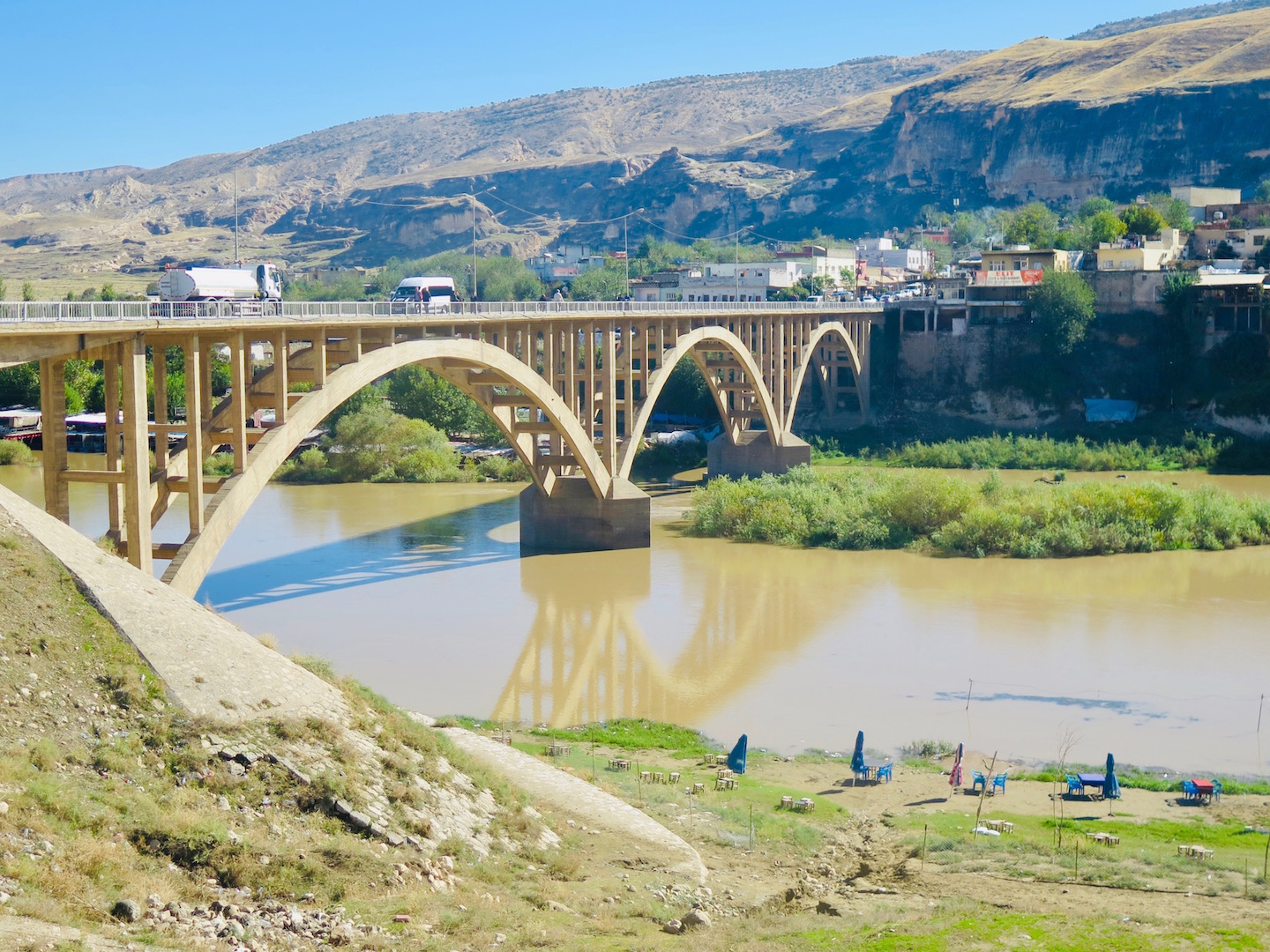 After leaving Hasankeyf in the mid afternoon we spent an hour 50km south in Midyat. There were a lot of Syriac wine shops there and some late lunch but nothing much to write about. Although we did take a wander around the local market. While this selection of local foodstuffs is run of the mill these days in a big supermarket – a thousand years ago it must have looked like the land of milk and honey to a travelling crusader from the cold lands of North Europe.
Finally, on the way back to Mardin to catch our flight back to Istanbul we stopped briefly in the almost abandoned village of Dereiçi. The village is the site of several ancient churches and the population of the village is now only some 150 souls left out of 3000 people some 100 years ago. Seems most moved overseas in the intervening years. Strange to see Turkish names written in Syriac in the grave yard, an indication of what a cultural mix the village must once have been, but now no more ofter a long history spanning several thousand years.
The below photograph shows the inside of one of the 5th century churches there. Apparently money still comes from the Syriac community scattered overseas that keeps the structure well maintained, even after all this time.
And finally … cue music …. we were on the road to BATMAN!
Share